November 27, 2017 10:11 am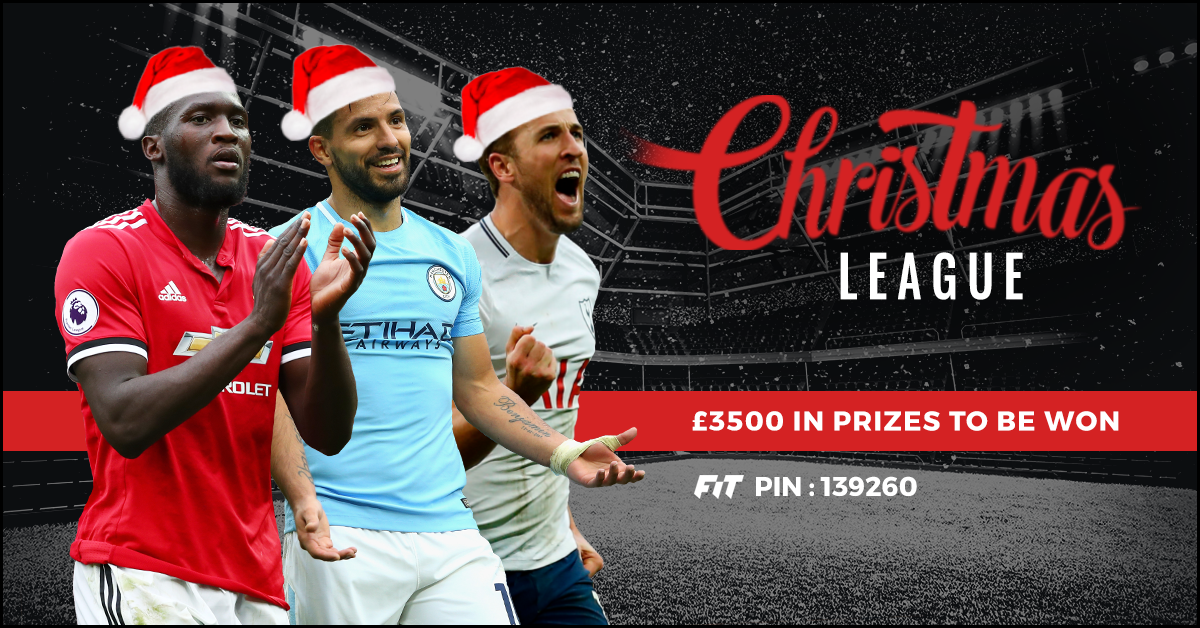 We've got £3500 pounds worth of prizes for fantasy football fans this Christmas.
Our new and exclusive Christmas Mini League will run from December 1st to December 31st, covering 7 gameweeks!
To be in with a chance of winning:
CREATE A BRAND NEW TEAM AND ENTER THE LEAGUE USING PIN 139260 OR SEARCH FOR OFFICIAL CHRISTMAS LEAGUE

You can enter as many teams into the league as you wish, but only teams with zero points overall will be permitted to enter.
The league will run from Gameweek 15 through to Gameweek 21, and here is what you can win:
1st place: £1000 Amazon Voucher
2nd place: £500 Amazon Voucher
3rd place: £150 Amazon Voucher
Prize Draw: 10 copies of FIFA 2018 – we'll randomly select 10 winners – just enter the league to be in with a chance.
Gameweek Winner: £200 Amazon Voucher
To create an additional team, tap on the change iTeam icon located at the top-right hand corner of your home screen, select Create New Team, then select English Premier League. Each additional team costs 220 FiT Credits, and you can create as many as you like.
If you haven't already joined us for the EPL 2017-18 competition, create your first team for free, and make sure to enter it into the league…
DOWNLOAD AND PLAY FOR FREE HERE
If you have any questions, please contact us at feedback@fantasyiteam.com
Good Luck!
Terms and conditions
1. The prizes are sourced from Amazon.co.uk (subject to availability in winner's jurisdiction. We reserve the right to offer an alternative in-app credit in accordance with our standard terms and conditions http://fantasyiteam.com/termsofservice.html
2. Only teams with zero points overall are permitted to enter
3. The winner of the Official Christmas Mini League will be determined by Perform Media Services Ltd only. The fantasy team with the most points when the league ends on December 31st wins 1st prize. The teams finishing 2nd and 3rd overall (based on EPL points scored) will also win a prize.
4. In the event that two or more fantasy football teams have the same Soccerway EPL points and occupy any of the top 3 positions overall, the winner will be determined based on the most number of goals scored. If goals scored are also tied, the most number of assists will determine the winner.
5. The winner of each gameweek in the Official Christmas Mini League will be determined by Perform Media Services Ltd only. The fantasy team with the most points wins. Prizes available from gameweek 15 through to gameweek 21, no prizes will be issues after this time.
6. There are 20 prizes on offer
7. For the FIFA 2018 prize draw, we will pick 10 teams out at random on Sunday 31st December
8. The winners will be announced on our Facebook page on Sunday 31st December
9. The winners will be contacted by email within 7 days of the announcement
10. The decision of Perform Media Services Ltd is final and binding and no correspondence will be entered into regarding the outcome of this prize promotion
11. All competitions are promoted by Perform Media Services Ltd, a company registered in England and Wales with company number 03426471 and whose registered office is at Sussex House, Plane Tree Crescent, Feltham, Middlesex, TW13 7HE
This post was written by Fantasy iTeam
Comments
comments