October 6, 2015 4:18 pm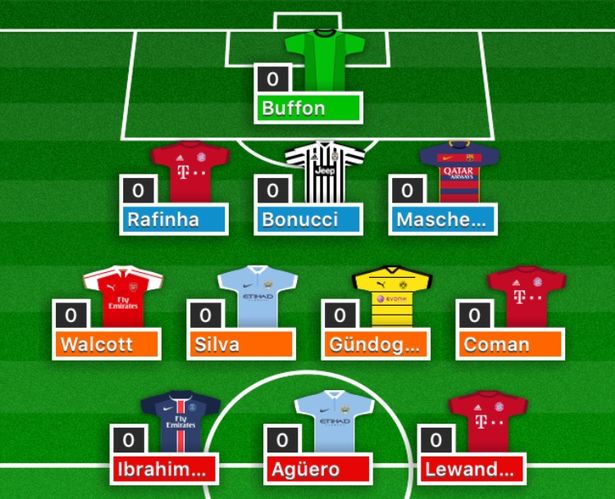 Picking a fantasy football team is hard enough at the best of times, but picking only 11 players from the star-studded teams in the Fantasy iTeam European Super League is almost impossible. As a veteran of many a fantasy game though, I had a plan.
My initial thinking was that in any fantasy game, strikers cost a premium and this is no different. Therefore my front three of Ibrahimovic (£8.3m), Aguero (£8.1m) and Lewandowski (£8.4m) used up a sizeable chunk of the game's £75m transfer fund. Goals do win games though, and those three have scored bucketfuls in the last few weeks. No Ronaldo was a difficult decision, but the Fantasy iTeam game's transfer system means it'll be easy to draft him in just in time.
In midfield the aim was to find a balance between players who are really closer to forwards (I took Theo Walcott in the hope that his run of goals and assists is a sign of a newly mature attacker) and all-rounders. David Silva (£7m) seemed like a steal, especially if Manchester City's recent wobble has truly been banished. Ilkay Gundogan and Kingsley Coman should add plenty of assists to the four in my 3-4-3 formation.
To finish, a solid, experienced defence made up of players used to keeping clean sheets was needed. Juventus might not have started the season on fire, but in Gianluigi Buffon and Leonardo Bonucci, I've picked one of the best goalkeepers in history, and one of the few players who recall the stereotypical classy Italian defenders of old. Javier Mascherano and Bayern's Brazilian full-back Rafinha are alongside the Italians as I back Bayern and Barca to dominate the next few months in Germany and Spain.
As you can see, I've gambled on October seeing a re-establishment of the status quo across Europe, but what will you decide?
This post was written by Fantasy iTeam
Comments
comments