March 19, 2015 11:57 am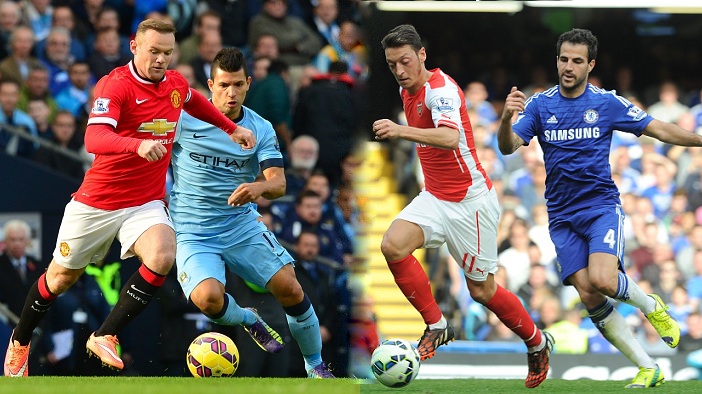 Hello everyone,
So, this is the start of the run in. Only 9 weeks to go. The title race may well be over, with Chelsea set to win the league, but the remaining Champions League places are all up for grabs. At the wrong end of the table, the relegation battle looks set to go down to the final weekend.
Team selection is now really important if you're trying to get those few extra points to make the difference; be it to win your Mini League, beat your mates, win your head to head or even win the whole thing! Before we look ahead to this weekends fixture, I've selected 5 possible captain choices. They may seem obvious (apart from Ramsey) but believe me, obvious is best in the long run in.
Captain Picks for Gameweek 30
Sergio Aguero, Man City (forward)
He may have been a horrible let down these last couple of weeks – no goals or assists against Leicester or Burnley, I mean really – but it could still be foolhardy to take the armband off him for this weekend's visit of West Brom.
Harry Kane, Spurs (forward)
Could well bag a goal or two at home to Leicester, even if they do make for deceptively tricky opposition.

Aaron Ramsey, Arsenal (midfielder)
I've got a feeling about him going into this weekend's game at an out-of-sorts Newcastle. He's more of a long shot for captain, but remember last season?
Olivier Giroud, Arsenal (forward)
Arsenal are on fire at the moment and he has his confidence back.

Diego Costa, Chelsea (forward)
Looked more like his old self against Southampton last week and I have a feeling Chelsea will destroy Hull.
So lets look ahead to the fixtures. Remember this week we all have an extra transfer. So that's 4 in total, assuming you're using the emergency transfer (which you must)!
Man City vs West Brom (12.45pm Sat)
Tricky one to start with as Man City come in to this game having lost last week and then travelled to Barcelona midweek. Pulis has done his normal thing of making his teams an incredibly tight defensive unit. Most people will have Silva and Aguero in their side. They are as likely to lose 1 nil as win 5 nil. If you think the latter, captain Aguero. Hopefully you will have at least 2 players playing in this game to transfer out afterwards for players in the following 3pm games.
Prediction 5-0. Star man :- Aguero
Aston Villa vs Swansea (3pm Sat)
One question. Do you think it's time to bring back Benteke? Has Sherwood worked some magic? Remember, he is a magician, as he once got Adebayor actually playing football to some sort of reasonable standard.
Prediction 2-1. Star man :- Benteke.
Newcastle vs Arsenal (3pm Sat)
Newcastle face an Arsenal team on the up, and now chasing 2nd place. I would avoid Newcastle players and put in (if you haven't already got) some obvious Arsenal ones. Giroud, Sanchez, Ozil, Cazorla and Ramsey spring to mind. Avoid Walcott, as Wenger seems to hate him these days! Arsenal also play first the following weekend.
Prediction 1-4. Star man :- Ramsey (Cheeky)
Southampton vs Burnley (3pm Sat)
Southampton will win 1 nil and Pelle won't score. Put your mortgage on it. So keep those Saints defenders and Forster but don't put any more attacking players in.
Prediction 1-0. Star man :- Forster, Clyne, Fonte, Alderweireld, Bertrand.
Stoke vs Crystal Palace (3pm Sat)
Stoke are always so mid table. The word flair really doesn't come to mind. On the other hand, Palace are full of the stuff. When Bolasie and Zaha click they look really dangerous. Bolasie has an amazing ability to run at speed with the ball, beating players without ever having the ball in front of him. He can run sideways like a crab, faster than any other living human (or crab). Anyway I haven't got a clue what to think about this game so I won't guess.
Prediction 7-7. Star man :- The crab man.

Spurs vs Leicester (3pm Sat)
People keep call Leicester "plucky". What is that suppose to mean? I think it's a polite way of saying crap… Only one winner here, Spurs. If you've already got Kane in your side, great. If you haven't, then put him in. You could also consider Eriksen, but personally I think he's going off the boil a little. Chadli is also a consideration, but I wouldn't leave him in your side as he might not start next game. So basically, if you fancy him (in a footballing way), then transfer him out after the game.
Prediction 3-0. Star man :- Kane
That's all the 3pm games done. In an ideal world you should of used at least 2 transfers by now, removing players from the earlier Man City vs West Brom game and putting in players from these 5 games.
West Ham vs Sunderland (5.30pm Sat)
Sunderland may have a new gaffer but they still have the same squad of players. Advocaat is only in until the summer with plenty rumours that Sam Allardyce is to replace him in next season, as many fans hope. Fans of both sides. So while Saturday is one man's first game, it could be the others job audition for the summer, and West Ham thank Sam for his efforts. You need a win Sam, not to save this job, but to get your next one! I personally would only consider 1 player to put in here, Sakho.
Prediction 1-0. Star man :- Sakho.
Liverpool vs Man Utd. (1.30pm Sun)
Big question. Have Man Utd finally turned a corner after their impressive performance last week? Liverpool are playing really well too, and this promises to be a cracker. If I had to pick 1 player to put in, I think it would be Rooney, but there are plenty of other contenders from both sides. You should know who they are by now.
Prediction 1-1. Star man :- Rooney.
Hull vs Chelsea (4pm Sun)
With just the league to worry about now, I think Chelsea will pull away from the chasing pack. If you have transfers left, and you should have at least 1, load up on Chelsea, assuming you haven't already got 4 of their players. Terry, Ivanovic, Hazard and Costa will do nicely!
Prediction 0-3. Star Man Costa.
QPR vs Everton (4pm Sun)
Austin, Austin, Austin. If you've still got that last transfer,put him in. Not because I think QPR will win, but simply because QPR are playing twice next week. Everton are looking a bit better now, but if you want to maximize points next week go Austin, as Everton have a tricky game with Southampton in GW31.
Prediction 1-1. Star man :- Austin
Hope I haven't bored you to death, and I've given you at least a few things to ponder over going in to the weekend.
Yours in football
The Dashman
This post was written by Fantasy iTeam
Comments
comments