May 28, 2016 10:44 am
Just days after winning the FA Cup with Manchester United, Louis van Gaal is unemployed. Now he's out of work, with an extended holiday on the horizon, who would the Dutchman pick if he was building his own Euro XI on Fantasy iTeam? Of course, the Netherlands' torrid qualification campaign means the likes of Robin van Persie, Daley Blind and Memphis Depay won't be present in France this summer, but there's still plenty of options to choose from when it comes to the Iron Tulip's former clubs.
Think you could do better with your £75m? Download the app today and choose your starting XI for the big kick-off two weeks on Friday.
GK: David De Gea
FiT Price: £6m
Van Gaal was sacked two years into his three-year contract at Old Trafford, but he'd have been out of the door much earlier had it not been for the Spaniard's superb form. De Gea managed 143 points in EPL Fantasy iTeam in 2015/16, keeping 15 clean sheets in the process, and he'll be first choice for many fantasy football managers in France. Good choice, Louis!
DEF: David Alaba
FiT Price: £6.3m
Alaba was given his big break at Bayern Munich by van Gaal, and the Austrian full-back-cum-midfielder hasn't looked back since. Five times his country's footballer of the year, Alaba is still only 23, and would walk into most fantasy XIs, especially after a return of 132 points in just 27 appearances in Fantasy iTeam last season.
DEF: Chris Smalling
FiT Price: £6m
The defender affectionately known as 'Mike' by van Gaal comes into the Euros off the back of a stellar season, gaining FiT managers 127 points and being awarded the Manchester United Players' Player of the Year accolade for the first time. At £6m, Smalling is a cheaper option than many of his continental contemporaries.
DEF: Leonardo Bonucci
FiT Price: £6.4m
Angel di Maria famously flopped at Manchester United after his home was burgled, but van Gaal can rely on Bonucci: the Italy defender once successfully confronted an armed robber who tried to steal his watch. The thief ran away, and Bonucci – a tough tackler and precise passer in the mould of Franco Baresi – kept his timepiece! With 178 FiT points, he was the highest scoring defender in Fantasy iTeam's European Super League competition in 2015-16.
DEF: Mats Hummels
FiT Price: £6.4m
With Daley Blind watching the Euros from home, van Gaal is forced to choose an actual centre-back to partner Chris Smalling in defence. A long-term transfer target of Manchester United, Hummels recently joined Bayern Munich, and will team up with new club mate Jerome Boateng in the German backline this summer. Hummels racked up 114 FiT points during the 2015-16 domestic season.
MID: Paul Pogba
FiT Price: £7m
Van Gaal failed at United due to his pedestrian style of play; how he must wish Pogba hadn't been allowed to leave Old Trafford on a free in the summer of 2012. The French midfielder offers power and pace in abundance, and could be the face of Euro 2016, if everything goes to plan for Didier Deschamps' men and Pogba builds on his excellent showing (152 points) in last season's fantasy football.
MID: Marouane Fellaini
FiT Price: £6.3m
Van Gaal often resorted to playing Fellaini in central midfield in the big games at United, much to the dismay of the Old Trafford faithful. The Belgian only managed one goal and two assists (equaling 42 points) over the entire campaign, but he cuts a much more influential figure in the Belgium set-up.
MID: Bastian Schweinsteiger
FiT Price: £6m
Van Gaal's midfield general at Bayern Munich and Manchester United, the Dutchman will once again be relying on 'Basti' in his fantasy team. That's if the German World Cup winner recovers from an injury which limited his fantasy football impact to just 40 points in 2015/16.
FOR: Anthony Martial
FiT Price: £7.6m
The French starlet was van Gaal's one success in the transfer market during his short tenure in England. The forward, often played out on the wing, managed to score 133 points for fantasy football managers last term, and would provide the majority of the pace and trickery in the former Ajax manager's dream Euro XI.
FOR: Thomas Muller
FiT Price: £8.3m
Another player given a chance by van Gaal at the Allianz Arena, Muller has achieved a tremendous amount in his short professional career. A World Cup and Champions League winner, Muller was a transfer target of van Gaal at Manchester United, and will lead the line for Germany this summer. With 20 league goals and 8 assists, Muller racked up a hefty 178 points last term.
FOR: Wayne Rooney
FiT Price: £7.9m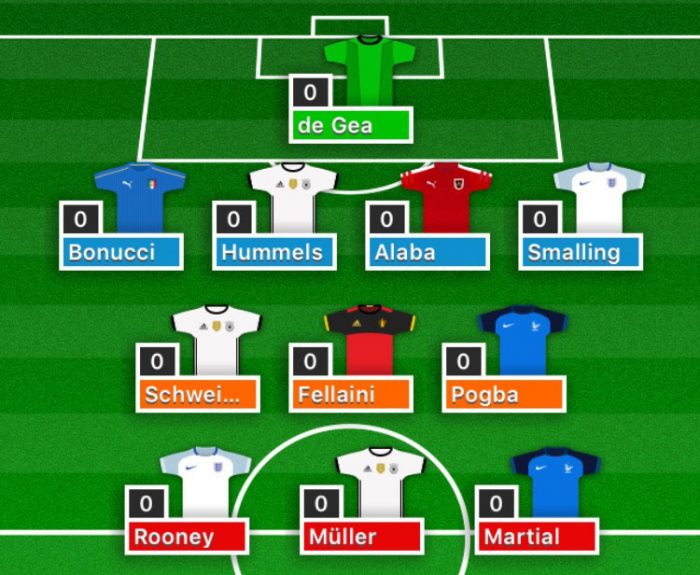 Despite being constantly written off by his critics, Rooney is still number one for club and country, a position van Gaal helped secure by appointing him captain of Manchester United. An injury-hit season meant Rooney only scored 116 points in FiT, but he'll be looking to score in a third European Championships this summer.
Disagree with de Gea? Bemused by Bonucci? Put your money where your mouth is, and see if you can outmanoeuvre this wily tactician, by downloading the app and picking your team now.
This post was written by Fantasy iTeam
Comments
comments