February 5, 2015 11:19 am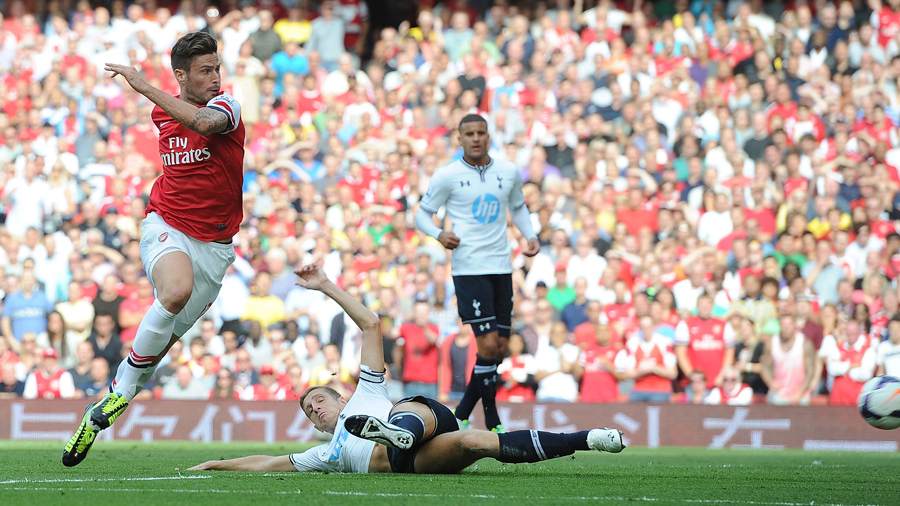 Fifteen Gameweek's to go. This week brings SIX transfer deadline's meaning plenty of opportunity to get the best out of your iteam's. Whether you need to stick with the most-picked players to stay ahead or if you need to take a gamble in order to make ground, this Gameweek not only offers some interesting matches but also opens up those strategic plans.
COMMON OVERVIEW :-
Many teams will already be loaded with Arsenal players and will look at selling after the early KO to bring in either Chelsea or Man City. Maybe both. Sturridge is the next obvious destination before ending with Man Utd players on Sunday. Out of the clubs mentioned only Arsenal & Liverpool play early-ish in GW25 so some retention maybe required.
SAT 12:45pm
Tottenham V's Arsenal
What a cracking match to begin the GW, with both teams bang in form. Arsenal will be looking at completing consecutive league wins at White Hart Lane for the first time since 1988 while us managers will be waiting on the FiTness of Alexis Sanchez. With Arsenal involved in the penultimate game last week, expect a lot of teams to have their players, if you fancy a Tottenham victory then I would suggest you put your team in the lobby because those Arsenal-heavy teams will bite.
If Sanchez passes FiT it may mean Walcott will drop to the bench despite scoring last week. Cazorla can't stop scoring points with 3 goals and 3 assists in the last 6 games but with a North London Derby I can't see Arsenal scoring as freely as they have done and with Ozil back in contention the Gunners' FiT points may be more spread out this week. At the back Arsenal look impressive with three consecutive Clean Sheets but will be reminded that Chelsea conceded 5 here on New Years Day.
The home team have Harry Kane. Enough said. With 6 goals and 3 assists in his last 6 games, Kane IS the form player in the premiership at the moment and is on the brink of breaking into the top10 point scorers for the season. Eriksen has three goals in the last six games (not including the brace in the FA Cup) while Chadli has a very impressive 4 assists. If Tottenham are to reach the top4 this season then victory would not only see them leap-frog Arsenal but also put them in the top4… albeit it may only be for a few hours.
Form – Tottenham 13pts (4th) ; Arsenal 15pts (2nd)
Last Season – Tottenham 0 – 1 Arsenal
Prediction – Arsenal have been playing some exciting football of late, will Harry Kane outscore them? No. 1 – 1.
SAT 15:00pm
Aston Villa V's Chelsea
1. Villa have now gone 6 league games in a row without scoring for the first time EVER in their history.
2. Their 612 minutes without a goal is the 7th longest spell in the league's history.
3. They've purchased Scott Sinclair.
To be fair to Villa they have managed 2 draws from those previous 6 games and also faced Liverpool & Arsenal in that spell. But the odds do reflect themselves and Betfred's 10/1 on a home victory does tell the story. The game for Villa might not be if they can win, but if they can actually score a goal.
Juan Cuadrado looks set to go straight into Chelsea's starting 11 and it could be Oscar (despite 3 goals and 2 assists in the last 6) that makes way. I can see Cuadrado making an impact straight away so if your competing in the Rich List then it should be one of your transfers this week. Costa is still suspended but shouldn't be in any iteam now anyway, Fabregas and Ivanovic both have 3 assists each from the previous 6 games but it's the 'out of form' Hazard with 2 goals & 2 assists who's the more appealing. Those playing catch-up may want to think about captaining Terry who has scored twice in the last 6 adding to a potential Clean Sheet, those with Cahill may need to check on the progress of Zouma.
Form – Aston Villa 2pts (20th) ; Chelsea 11pts (7th)
Last Season – Aston Villa 1 – 0 Chelsea
Prediction – Chelsea to dominate possession and the score-line. 0-3
Leicester V's Crystal Palace
Riyad Mahrez returns from International duty and despite missing the previous 3 games, is Leicester's most in-form player from their last six games – with two assists and one goal. At just £3.3M the midfielder may be worth a punt in budget-tight iteams. If they want to avoid relegation then home games against your rivals are must win games for Leicester who have Hull to thank for not having the division's worst home record. Over the last six games? OK, Leicester have the worst home record.
Palace have only lost 1 of their last 6 away games (Man City 20/12) and will see this game as an opportunity to put more distance between themselves and the relegation zone. While Bolasie is still at the ACON, Jedinak should return after captaining Australia to Asia Cup success. Pardew also has a host of new signings (Mutch, Chung-Yong, Ameobi) so I'd wait for (yes, Ameobi) wait for the team news before transferring anyone in. But you do that anyway don't you? The in-form Palace players are Jason Puncheon (2 goals, 1 assist) and Dwight Gayle (3 goals, 1 assist from the last 6 games.)
Form – Leicester 7pts (12th) ; C.Palace 8pts (9th)
Last Season – No Fixture
Prediction – Leicester had victories against Villa & Hull of late and I fancy they could take another 3pts today against a possible new-look Palace side. 2 – 1.
Manchester City V's Hull City
Man City have gone 3 games without winning but I can't see that extending to 4. Looking at it the other way, Man City have only lost once in their last 14 games. An obvious choice for the GW's captain is Aguero but looking past the Argentinian, Silva has 3 goals and 2 assists and Fernandinho has 2 goals from the last 6. Weakness? The last Man City Clean Sheet came in GW17 V's C.Palace. Zabaleta could return to the starting 11 for Sagna this week.
Hull have lost their last 3 games without scoring, in-fact they have failed to score in 7 of their last 9 Premiership matches. Maybe new signing Dame N'Doye (£5M) will be given the task of scoring the goals, the Senegal striker had no problems in Russia and Denmark. Jelavic has managed to score twice in the last 6 games but the only reason I'd transfer in a Hull player would be because they face Villa then QPR next. I still probably wouldn't to be honest.
Form – Man City 9pts (8th) ; Hull 6pts (13th)
Last Season – Man City 2 – 0 Hull
Prediction – More points for Aguero but still no Clean Sheet. 4 – 1.
Queens Park Rangers V's Southampton.
Kevin Bond and Chris Ramsay will manage this game after the resignation of Harry Redknapp on Tuesday. I believe the duo are not in charge for the season so there may not be a 'new-manager-syndrome' increase in play. But they do need it after losing their last 3 games and scoring just 4 goals in their last 6 games. Austin scored 2 of those goals and supplied an assist for 1 of the others, he remains the only interest in the league's 19th club.
Southampton's surprise loss to Swansea last week saw them lose 3rd place to Man Utd and now have Arsenal & Tottenham right behind them. That loss was their first since GW16 in a run that seen victory over Man Utd & Arsenal and draw with Chelsea. Pelle seems to have dropped in form with only 1 assist from the last 6 games, in the same period Mane has 3 goals, Tadic and new boy Elia (in 3 games) have 2. Ward-Prowse has an impressive 4 assists.
Targett could come in for the suspended Bertrand and Mane could make the starting 11.
Form – QPR 2pts (19th) ; Southampton 13pts (3rd)
Last Season – No Fixture
Prediction – Changes at the back might let QPR in, but not enough for any points. 1 – 2.
Swansea V's Sunderland
The Swans go into the game with 2 wins, 2 draws and 2 defeats from their last 6 games. The good news for them is that they've only lost 3 games at home all season, even better news is that they've never ever been beaten by the Black Cats. Sigurdsson serves the 2nd of his 3 game ban leaving Jonjo Shelvey as Swansea's only goalscorer in their last six games (with 1 goal). Bafetimbi Gomis finds himself with the job of finding the goals now that Bony wont be returning and could interest a few iteam managers.
Jermaine Defoe supplied an assist on his debut and then a goal last week to remain very much on the minds of us fantasy managers. Sunderland's first win since GW17 lifted them 4 points clear of the drop zone and after this week face 2 teams below them in the table, Man Utd and then 2 more teams below them in the table. At £5.7M, Defoe could enter a lot of teams and if £5M Adam Johnson passes FiT, there is great opportunity for him to add to his 2 goals in his last 6 too.
Form – Swansea 8pts (10th) ; Sunderland 4pts (18th)
Last Season – Swansea 4 – 0 Sunderland.
Prediction – Until Sigi returns I can't see Swansea scoring many and I can't see Defoe producing every week. 0 – 0.
SAT 17:30PM
Everton V's Liverpool
A win at Palace last week stopped the run of 6 consecutive games without victory, 3pts in Merseyside Derby would make consecutive wins in the Premiership for the first time since October. The blues not only have found it difficult to win, but they've also found goals a bit of a problem too with just 4 of them from their last 6 games. The only player to register on the Match Centre more than once in that time is Leighton Baines with two assists, adding 2 Clean Sheets from his last 2 outings brings you an average of 4pts per game. But would you want to bring him in against Liverpool and upcoming fixtures against Chelsea and Arsenal?
New signing Aaron 'Happy' Lennon will feature (possibly from the bench) and for £4.4M is a bargain, I can see him outscoring other players in this price range during this last stage of the season.
Last season saw Mirallas add to Lukaku's brace and if either fancy scoring again they would become the first Everton player to score in consecutive league Derby's at Goodison since Mo Johnston. That was in 1992.
Liverpool find themselves in fine form, 1 defeat in their last 11 games with 6 Clean Sheets in that same period. Coutinho has 5 assists from the last 6 games – more than any other player in the league – and with Sturridge back I can only see that number rise. It is Sturridge that seems the sensible option if buying LFC, they've had 8 different scorers from their last 11 goals but with the Englishman back I can see the goal tally rising with him claiming the biggest slice of the pie.
Chasing iteam managers may look to Henderson who has 3 assists, Gerrard with 2 goals and of course Sterling with 2 goals & 2 assists (all from the last 6 games).
Form – Everton 5pts (14th) ; Liverpool 16pts (1st)
Last Season – Everton 3 – 3 Liverpool
Prediction – Martinez to feel more pressure as Liverpool make it four-in-a-row. 0 – 2.
SUN 12:00PM
Burnley V's West Bromwich Albion
Although drawing a blank last week, Burnley can score goals. Since Christmas they've scored twice against Man City, Spurs (FA), Palace and QPR, while putting in three against Newcastle. Danny Ings has 3 goals and 2 assists making him Burnley's in-form player. Both forwards Boyd & Arfield have 2 goals each while at the back things don't look too rosy with 1 Clean Sheet in their last 12 games.
WBA's last away win came last November (V Leicester) and have since lost 5 and drawn 3. Saido Berahino's form may have dipped but with 2 goals from 6 he is still the leading man for the Baggies. Victor Anichbe's 2 goals in the FA Cup may tempt some iteam managers while Callum McManaman's return to the Premiership will surely bring in points over the next few games. Deadline day signing Darren Fletcher faces a rush to be FiT. The Tony Pulis effect led to Clean Sheets in his first 2 Premiership games, after conceding three to Tottenham last week we might know the direction the team is taking after this game.
Form – Burnley 5pts (17th) ; WBA 5pts (16th)
Last Season – No Fixture
Prediction – The transfer window may have affected Danny Ings performance last week. Now there's rumours Man City are after him. 0 – 1.
SUN 14:05PM
Newcastle United V's Stoke City
Maybe the weakest of matches in GW24 with both teams in mid-table, too far away from the 'Zone and too far away from Europe. Newcastle play last in GW25 but if you do insist in transferring in a player, look at Jack Colback who has 3 assists and 2 goals from the last 6 games. A bargain at £3.9M. Yoan Gouffran and Papiss Cisse have 2 goals each with the Senegalese returning from AFCON as a late sub last week. But will Carver start with him or stick with the team that beat Hull so comfortably?
Stoke are seeking a victory which would make 3 in-a-row for the first time this season. GW23 Hat-trick boy Jonathan Walters will be hoping he keeps Mame Diouf on the bench, like international team-mate Cisse, Diouf is waiting to re-start the EPL after his AFCON stint. Stephen Ireland may tempt a few with his 2 assists last week while Shawcross looks set to miss out.
Form – Newcastle 7pts (11th) ; Stoke 13pts (5th)
Last Season – Newcastle 5 – 1 Stoke
Prediction – Put it on your BTTS list. 2 – 2.
SUN 16:15PM
West Ham United V's Manchester United
West Ham don't beat Man U do they? December 2007 was the last time they recorded a league victory at Upton Park. Is it called the Boleyn Ground now? Oh well, it was called the First Division the time before that in 1992.
Over the last 6 games the Hammers have scored 6 goals with 5 different scorers and 6 different assisting players. Not much value in a team losing ground in the Premiership with upcoming fixtures against Man Utd, Southampton, Spurs, Chelsea and Arsenal. Andy Carroll has 2 goals in his last 3 appearances but is likely to miss out.
Man Utd go into the game having lost just once in their last 13 games. Rooney, Falcao and RVP each have 2 goals from the previous 6 games. Having moved into 3rd in the table, Man Utd now face 5 games without meeting any of the top7 teams and have no European distraction. Expect lots of iteam managers to use their remaining transfers for this match, if your playing catch-up in your mini-league then Blind could be an option with 2 assists last week and a potential Clean Sheet to build on Utd's 2 from their previous 6 games.
Form – West Ham 5pts (15th) ; Man Utd 11pts (6th)
Last Season – West Ham 0 – 2 Man Utd
Prediction – Escaping an FA Cup ban, WHU will be keen to put that episode behind them. 1 – 1.
The Bread-Winners :-
(last 6 games)
Goals :-
6 – Kane; 5 – Costa; 3 – Cazorla, Eriksen, Gayle, Ings, Mane, Oscar, Sanchez, Silva, walters.
Assists :-
5 – Coutinho; 4 – Chadli, Ward-Prowse; 3 – Cazorla, Colback, Fabregas, Henderson, Ivanovic, Kane.
Long-Term Buying and Selling :-
The current top 7 teams are – Chelsea, Man City, Man Utd, Southampton, Arsenal, Spurs and Liverpool. Which clubs play these teams over the next 6 weeks?
BUY
ARSENAL, after the Tottenham game they have 5 straight games avoiding the top7 teams.
HULL, after playing Man City this week, they have a 5-game run without meeting the top7.
MAN CITY, just that Liverpool game in GW27 clouding the way.
MAN UTD, 5 games without a top7 team until Spurs in GW29.
HANDLE WITH CARE
ASTON VILLA, crazy maybe but like Arsenal, they too have 5 games avoiding the top teams after this GW.
CHELSEA, they meet Soton in GW29 and have no game in GW27.
STOKE, wait until after GW25 then they have 4 trouble-free games.
SUNDERLAND, just that Man Utd game in GW29 looking worryingly for them.
TOTTENHAM, no game in GW27 but then DGW in 28.
WBA, Stoke in GW29.
SELL
BURNLEY, they've got Man U, Chelsea, Liverpool and Man City in their next 5 games after this GW.
EVERTON, after Liverpool they have Chelsea and Arsenal on the horizon.
LEICESTER, no game in GW29 and Arsenal & Man City games either side of it.
SWANSEA, after GW25 they face M.Utd, Spurs and Liverpool.
WEST HAM, blimey just get rid. There away against Soton, Spurs and Arsenal and home V's Man Utd & Chelsea.
You make your own luck in this world, so don't 100% copy, use a percentage that's comfortable to you to be unique. Then see where that takes you. Good luck.
This post was written by Fantasy iTeam
Comments
comments