August 10, 2016 3:44 pm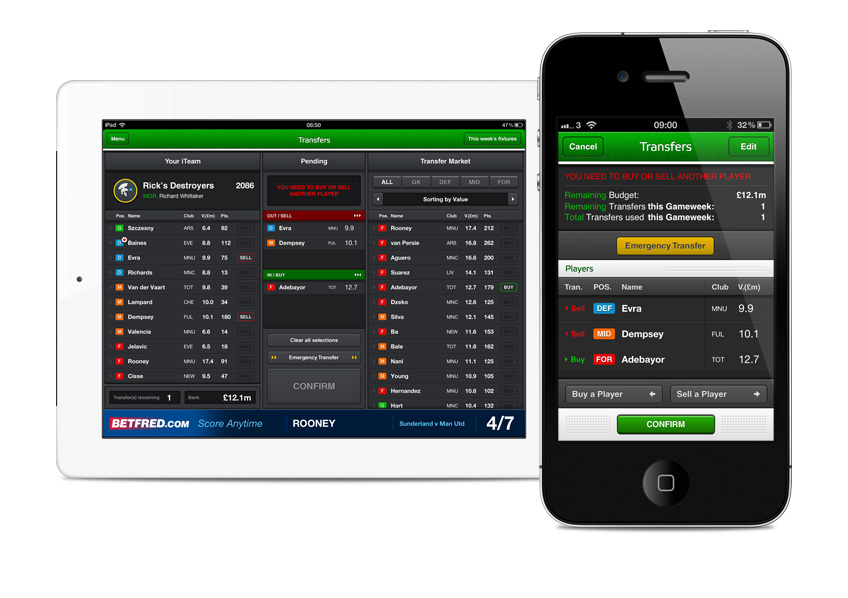 In fantasy football, as in the real-life version of the sport, transfers are the manager's 'ace up the sleeve'. Got a poorly-performing player in your squad? Get him shipped out, introduce some fresh blood, and watch your iTeam fly!
Fantasy iTeam gives managers two transfers a week, with an extra transfer being added every five Gameweeks. To make the most out of the points on offer, you should be using all your transfers and, if possible, you should be replacing players in between games. Ibrahimovic featuring on Sunday and Costa playing on Monday? As long as you get them swapped before Diego struts out on to the pitch at Stamford Bridge, you'll get points for both.
But, fantasy football can often slip by the wayside when up against life's other pursuits. What if, for example, you're at a wedding and the action is on, or you're out on the town on a Saturday night and you won't be awake in time for the early game on Sunday?
Fear not: the iPhone and Android versions of our app include scheduled transfers – here's how to make the most of them!
How to find the scheduled transfers option
Open the app, tap the 'iTeam' icon, and scroll down until you reach 'Transfers'. For Gameweek 1, you should see two free transfer options, alongside the options 'Now' and 'Scheduled'. If you want to make a change right away – and you can still do so on an unlimited basis until tomorrow – choose 'Now'. For the purposes of this article, we're going to choose 'Scheduled'. Once you've tapped this, you'll be taken to a list of Gameweek 1's fixtures.
Scheduling a transfer
For Gameweek 1, you have two free transfers, so let's assume you want to take two players out after Saturday's fixtures and replace them with two who feature on Sunday:
• Jamie Vardy out (playing Saturday 12.45pm), Wayne Rooney in (Sunday 1.30pm)
• Joe Hart out (Saturday 5.30pm), Petr Cech in (Sunday 4pm)
For the first transfer, you would tap the plus sign on the Bournemouth v Manchester United fixture, as this is the game Wayne Rooney would need to come in for. Select Vardy as the player you want to sell, and Rooney as the player you want to buy, and then repeat this for the Hart and Cech switch.
If Vardy scores against Hull, you will receive the normal five points, before Rooney automatically comes in. If Rooney then nets against Bournemouth, he'll score you points too. Ditto with clean sheets for the Manchester City and Arsenal goalkeepers. As you can see, this is a no-hassle way to maximise the points you'll win each Gameweek: just ensure you review the forthcoming fixtures in plenty of time, keep tab on any injury and suspension news, and get your scheduled transfers locked in.
Don't forget
• You can also schedule captain changes, to really give your iTeam a points boost. (You can only have 1 captain per gameweek)
• Scheduled transfers are only visible to the players who make them, so if you're sick of your friend at the top of the league copying your moves, they could be extremely useful.
• You can cancel a scheduled transfer ahead of time, just in case someone fails a fitness test.
• Just remember: you can only schedule transfers for the upcoming Gameweek, so if you're away for weeks at a time, you might want to take a look at the bigger picture and transfer in players at clubs with a generous run of fixtures.
Scheduled transfers: we think they're the future!
This post was written by Fantasy iTeam
Comments
comments