July 26, 2017 7:00 am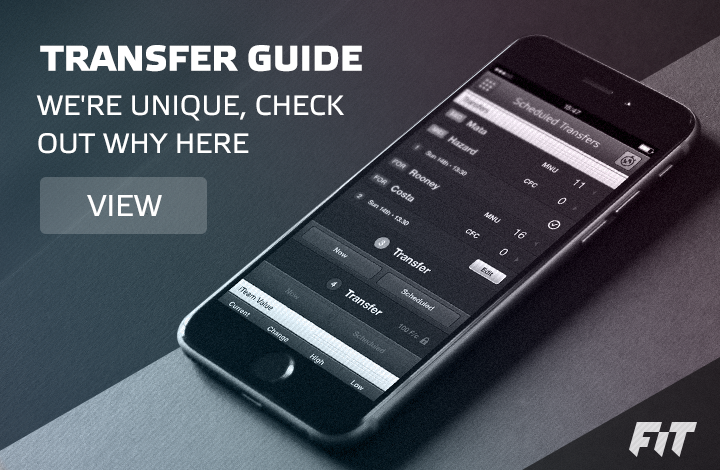 Each Gameweek (there are 38 in our EPL competition) your iTeam is allocated a fixed number of transfer credits – 2 free transfers with the option of purchasing a maximum of 1 additional transfer. Making transfers is an integral part of the game, and can mean the difference between scoring many or few points.
Transfer Guide
A massively important part of our game to get your head around is how to best use your transfers, as it's is different from any other Fantasy Football game out there. If you use your transfers wisely, you will have at least 13 point scoring players playing each Gameweek.
You can make changes to your iTeam in-between fixtures. As long as the player is in your iTeam lineup at a game's scheduled kick off time, you will get his points.
You also retain ALL points scored by the player transferred out. For example:
If you pick Romelu Lukaku in your team for Manchester United's kick-off on Friday 10th 8.00pm, you can transfer him out at 12.30pm the following day and replace him with Harry Kane, whose Spurs team will play in against Leicester. You can then transfer Kane out on Sunday and replace him with Sergio Aguero, when Manchester City kick off their campaign against Arsenal.
You will still collect all the points that Lukaku is awarded as well as any points awarded to Kane and Aguero. You're able to schedule these transfers, or wait right up until kick off to make your changes to ensure your transfer targets are in the starting lineup!
Scheduled Transfers
With our unique transfer system we needed a unique way for you to make your transfers, and you're going to love it! Scheduled transfers enables you to buy and sell players without the need to be anywhere near your device at the time of the transfer going through. This will be of great help if you:
Work whilst the matches are on
Live abroad (or are on holiday) and hate setting your alarm for the early hours of the morning
If you love trips to the garden centre at the weekend (who doesn't)
If you're at a match yourself with no phone signal
If you run multiple teams and struggle to make all your transfers in good time
If you're forgetful, or simply too busy around game time
If you want to make your transfer at the last possible second without worrying about it going through too late – see below
My favourite, no copying!!! No one can see your Scheduled Transfers until AFTER they have gone through. Which will be too late for anyone to copy them
It's not just transfers that can be scheduled, you can also schedule your captain pick
And all the above would be useless without this – you can cancel them any time before they go through
For more details, check out our in-app help section – it explains how to make transfers, how to change formation, transfer rules and also includes the full transfer schedule for the tournament.
Good Luck!
This post was written by Fantasy iTeam
Comments
comments