June 29, 2015 3:30 pm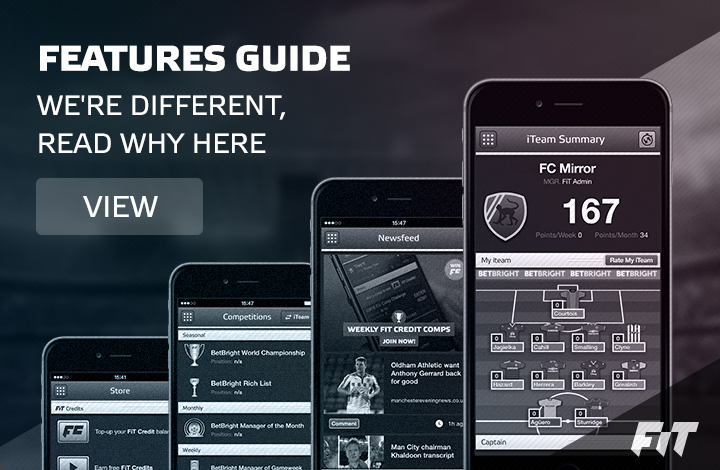 FiT Credits
FiT Credits are a virtual currency which can be used within any Fantasy iTeam game. They can be used to purchase a number of items, including Additional Transfers and Additional iTeams, together with additional items.
To purchase FiT Credits, you'll need to visit the FiT Store where credits can be bought in bulk to offer savings over the course of the season. These credits can then be used to purchase items within the range of Fantasy iTeam game(s).
FiT Credits are linked to your Fantasy iTeam Account, so will carry over from season to season and from game to game.
In addition to purchasing FiT Credits, you will also be able to earn them through the app in a number of ways:
As your Manager Reputation increases, you will receive bonus credits at certain levels
By recommending a new user to FiT, you will receive credits. To do this, visit the Store page and select Recruit Players. You will receive 25 credits for each person that downloads the app, creates an iTeam and validates their email address.
FiT Credit H2H's and Credit Competitions are also a rewarding way to win credits based on your iTeam's performance.
Earn free FiT Credits. Visit the Store page and select this option. There are plenty of ways for you to earn credits – from watching trailers, playing other games, filling out surveys, to taking part in free trials.
Head-to-Head Challenge
This type of competition is organised between two participating iTeams. You can challenge another iTeam in a specific Gameweek for a wager of between £0 to £1m (capped at £0.2m to begin, increasing during the course of the season). You can also play for FiT Credits.
To accept, or for your opponent to accept a challenge, the necessary funds depending on the proposed wager must be available in each participant's bank. All iTeams can only play one Head-to-Head Challenge per Gameweek.
To compete in a Head-to-Head Challenge, you can either challenge an opponent through his/her Manager page, add a challenge to the H2H Lobby or take a challenge from the H2H Lobby.
IMPORTANT WARNING
Some users attempt to cheat the Head-to-Head Challenge feature by intentionally playing against weak iTeams of their own making.
We have a system in place which monitors suspicious activity of this kind. Any users found to be cheating in this way will have their H2H Challenge made void and repeat offenders will be banned from using the H2H Challenge feature for the rest of the season.
Additionally, we have a large number of competitive users who will not tolerate cheats. For this reason, we often receive messages if they suspect anything awry.
You have been warned!
Bonus Head-to-Head
Entry to this type of competition is automatic and occurs every Gameweek. Each iTeam is drawn against another iTeam at random and their scores for that particular Gameweek are compared. The winner of the tie receives £200k (£0.2m), which is immediately deposited to their bank (the loser doesn't lose any money). In the event of a draw, no one will win (or lose) any money.
Credit Competitions
These competitions have an entry fee and a limited amount of spaces. They also operate using a minimum and maximum prize pot which depends on the amount of participants who have already entered.
If you visit the Competitions section and select a credit comp, you will be presented with an alert which shows you the current prize pot and will allow you to enter by staking the required amount of FiT Credits.
The amount of prize winners in each competition varies depending on the size of the comp.
IMPORTANT: The decision of Fantasy iTeam is final. In the event of a tie on points, the winner will be decided on goals scored. If there is still a tie, the winner will be decided on the number of assists. If there is still a tie, then the iTeam with the highest value will win. In the unlikely event of there still being a tie, we will draw the winner from a hat and the prize pots will be split accordingly.
FiT Quiz – iPhone and iPod touch devices only
The FiT Quiz – your chance to test your football knowledge and compete with others for fun or to gain more FiT Credits. It's simple to play. The faster you are, the more points you get. There will be a new Quiz to enter at the start of each Gameweek, and your first attempt is always FREE. Prizes are awarded to the top 10 scorers.
After your first free attempt, you have the option of using 25 FiT Credits to try and better your score. You will be allowed a maximum of 4 additional attempts in a single Gameweek. There will always be a guaranteed Prize Pot, and this may increase dependant on the amount of extra attempts. Make sure you check out the VIEW PRIZES button, the Pot could get very big.
To take part, simply hit ENTER NOW and start answering some questions. Your final score will be displayed after you have answered them all. You can press Try again right away, or come back before the Gameweek ends and have another attempt. The last thing to do is check where you are in the Current Quiz World Leaderboard. Select This Week's Quiz and hopefully you don't have to scroll down!
IMPORTANT: The decision of Fantasy iTeam is final. In the unlikely event of a tie on scores, we will draw the winner from a hat and the prize pots will be split accordingly.
PlayerDAQ
With the introduction of scheduled transfers, we've made some changes to our PlayerDAQ. In previous seasons, the PlayerDAQ was based primarily on player popularity – which wasn't easy to gauge. If a player played early on in the Gameweek, scored well but was then transferred out by the masses, the player lost value – that didn't make sense.
In 2015/16 and beyond, values won't change until AFTER the Gameweek ends, and the value change will be based on how many points the player has scored. This change means you don't have to worry about scheduled transfers being cancelled due to values changing, plus, you can safely wait for team line-ups without worrying about the player you have your eye on increasing in value.
Each player's PlayerDAQ value can be viewed in detail on his player page. Rotate your device to view a graph*.
*iPhone and iPod touch devices only.
Newsfeed
The Newsfeed is designed to keep you informed of all developments in both the real and FiT worlds of football. Various types of article will appear in the Newsfeed and most of which will allow for comments to be made.
At the bottom of the screen you will see three tabs: News, Match Day and Forum.
The News tab lists the latest and most important European and English Premier League stories. By tapping on the story, feature or promo, this will either load the story or take you to a different part of the app. To make a comment, simply tap on the Comment button located underneath most articles.
The Match Day tab allows you to see the latest news and live commentary from our Twitter account. This is a really useful resource if you are waiting on team line-ups before you make last minute transfers. Please note, very rarely, the official club sources we use can get a team lineup wrong – if they do, we will correct the lineup as soon the information is made public.
The Forum tab lists a variety of topics created by Mirror Fantasy iTeam Coaches. Again, this section works in much the same way as the News tab, allowing for topics to be read and commented on. At the start of the season, you'll find out all you need to know about the various Mini Leagues here.
If you are a Mirror Fantasy iTeam Coach, you will be able to create a topic by tapping on the inverted commas button in the top right of the page. Managers without Coach status will not see this button.
Manager Reputation
Every iTeam Manager has their own reputation rating, which is reset each season. This reputation rating is meant to be a reflection of your proficiency at managing your iTeam.
You also have a reputation rating for each of the different games (EPL,CL,WC,EC). These are classed as 'Domestic' reputation, 'European' reputation, and 'International' reputation.
There are a number of ways in which you can increase your reputation throughout the season and there are rewards for reaching specific levels on the scale. When the season is over, you will receive a Reputation Card for your Trophy Cabinet depending on the final rating you receive.
Ways to increase your reputation (each of the following will be calculated when the Gameweek changes):
Score more than 45 points in a Gameweek with one of your iTeams.
Win a trophy of any kind in a Gameweek (your Mini League must comprise of 10 or more iTeams for you to win a trophy).
Finish in the Top 500 Managers in the Manager of The Week competition.
Win an arranged H2H Challenge with one of your iTeams during a Gameweek.
Use up all of your available transfer credits within a Gameweek (this does NOT include Additional Transfers)
If you manage to achieve two of the above within a Gameweek you will receive an increase of 0.1, if you manage to achieve three you will receive an increase of 0.2, and if you achieve four or more you will receive an increase of 0.3.
It is worth noting that you can only obtain each of the above once per Manager each Gameweek. This means that if you have three iTeams which all score more than 45 points, it will only count as one achievement. The same applies with transfer activity in the sense that you only need to make all transfers with one iTeam, rather than all three to obtain that achievement.
All managers start at Level 1.0 and the rewards for reaching each subsequent level are as follows:
| | |
| --- | --- |
| Level 2 – | 25 F/c (FiT Credits) |
| Level 3 – | 35 F/c (FiT Credits) |
| Level 4 – | 45 F/c (FiT Credits) |
| Level 5 – | 55 F/c (FiT Credits) |
| Level 6 – | 65 F/c (FiT Credits) |
| Level 7 – | 75 F/c (FiT Credits) |
| Level 8 – | 100 F/c (FiT Credits) |
| Level 9 – | 125 F/c (FiT Credits) |
| Level 10 – | 150 F/c and FiT Coach status |
*IMPORTANT: FiT Coach status is only granted by reaching Level 10 on the EPL 'Domestic' reputation scale.
The scale for the CL, WC and EC are much smaller due to the shorter competition format.
Formation Tree and Player Icons
Located at the top of the Newsfeed page is your formation tree. It gives you a quick idea on how many of your players are still to play in the current Gameweek, who's doubtful or injured, who's suspended and who's already played. You will also see these various player icons from your iTeam page.
White circle – player still to play in the current Gameweek
Red circle – player has already played in the current Gameweek
White S within a red circle – player will miss the next game due to suspension
White ? within a blue circle – player is a doubt for the next game
Red cross within a white circle – player is currently injured or unavailable for selection due to other reasons
IMPORTANT– This data is collated by us here at FiT. We use the most reliable sources we can for this information, but we cannot guarantee it will be 100% accurate as sometimes clubs and managers don't give accurate information about their players. Most of the information we receive comes from press conferences, which take place a day or two before a match. With that in mind, you may want to wait until these have taken place before making any transfers – or even better, schedule them – you can then cancel them if needs be.
This post was written by Fantasy iTeam
Comments
comments